[Kinshicho] Accommodation type restaurant "THE skM TOKYO HOTEL & DINING" Luxury stay where you can enjoy meals in your room
In a space just for you and your loved one, enjoy a delicious meal while enjoying conversation, watching TV, listening to your favorite music, or gazing at the night view... It's a wonderful time to be able to immerse yourself in your own time without worrying about the eyes around you when eating. "THE skM TOKYO HOTEL&DINING" where you can enjoy such a special time. Why don't you experience an elegant hotel stay where you can have dinner and breakfast in your room?
Compact luxury hotel in Tokyo "THE skM TOKYO HOTEL & DINING"
Approximately 3 minutes on foot from Kinshicho Station on the JR Chuo Line/Sobu Line/Sobu Rapid Line/Hanzomon Line. "THE skM TOKYO HOTEL & DINING", with its impressive exterior and terrace, is close to the station, with access to Tokyo Skytree®, Kaminarimon in Asakusa , and Tokyo Station in about 10 to 15 minutes by train or taxi, making it an ideal location for sightseeing in Tokyo. Good location.
Front lobby with a moody atmosphere
As soon as you step into the hotel, the light of the fantastic lights is beautiful and you will be drawn into a moody atmosphere. It is a wonderful space that enhances the extraordinary feeling as if you were in a foreign country.
The front is made of white marble, giving it a luxurious and chic feel. There is also a self-checkout, so you can check-in and check-out here as well, which is convenient.
During my visit, the lobby was adorned with magnificent cherry blossoms, creating a stylish and uplifting atmosphere with its seasonal decorations.
Relax at Wine Lounge "mermelada"
The space where the chairs are lined up right in front of the front desk is actually the wine lounge "mermelada". Wine bottles are lined up in a row, and it's an irresistible sight, especially for people who like alcohol.The wine cellar, which can accommodate more than 400 bottles, offers bottled wine for in-store use and take-out sales, so you can enjoy your favorite wine.
"Mermelada" means "jam" in Spanish, and it seems that it is filled with the desire to spend a sweet and melting time with wine. It is also attractive to start a wonderful evening with a drink here.
Let's expolore a room
You can't press the elevator button without your room key, so security is perfect. When you arrive at the accommodation floor and get off the elevator, a corridor that feels like a secret passage invites you to your room.
Party dining room
THE skM TOKYO HOTEL&DINING has 24 rooms including suites. Among them, we stayed at the party dining room this time.A large bed, couch, TV and dining table are eye-catching. The space is more than 44 square meters where you can relax comfortably.
Big and fluffy! Comfortable bed
The bed is a Simmons pillow top mattress (*), so it's soft and fluffy! There is enough room for two people to sleep comfortably.* See "THE skM TOKYO HOTEL&DINING Ikkyu Official Information"
Perfect for birthday parties! Spacious living space
A spacious interior that doesn't feel cramped even with such a large dining table, couch, and TV. The dining table, which is rare in a typical hotel room, is unique to an "accommodation restaurant" .With such ample space and the opportunity to eat delicious food from the hotel in this room, you can gather friends and hold parties for birthdays and anniversaries! Oh my God.
The bathroom boasts a stylish design reminiscent of a scene from a foreign film
The washroom also has a design that women will love, such as a large mirror and lights. When we stayed with two women, we were able to do our makeup together in the morning, and we were both able to use the mirror.
I was surprised that the bathroom was spacious! A Western-style bathtub that looks like something out of a foreign movie and chic walls are stylish. A deep soaking tub allows you to relax.
Shampoos and rinses are available in tube form. This is also an easy-to-use design that matches the atmosphere of the bathroom, and you can feel the commitment to not destroy the atmosphere of the space.
Stylish and easy-to-understand touch panel
The room features a sleek touch panel for controlling the lights and blinds, replacing traditional buttons and switches. This modern design preserves the room's ambiance, utilizing intuitive iconography like a light bulb symbol to ensure user-friendly operation.
Luxurious lounge experience in your room
There are various drinks and snacks in the room, so you can experience it as if you were in the lounge.
Take a break with red wine, drinks and snacks
I highly recommend the sommelier-selected red wine, which is included as a luxurious amenity with a full bottle provided in the room!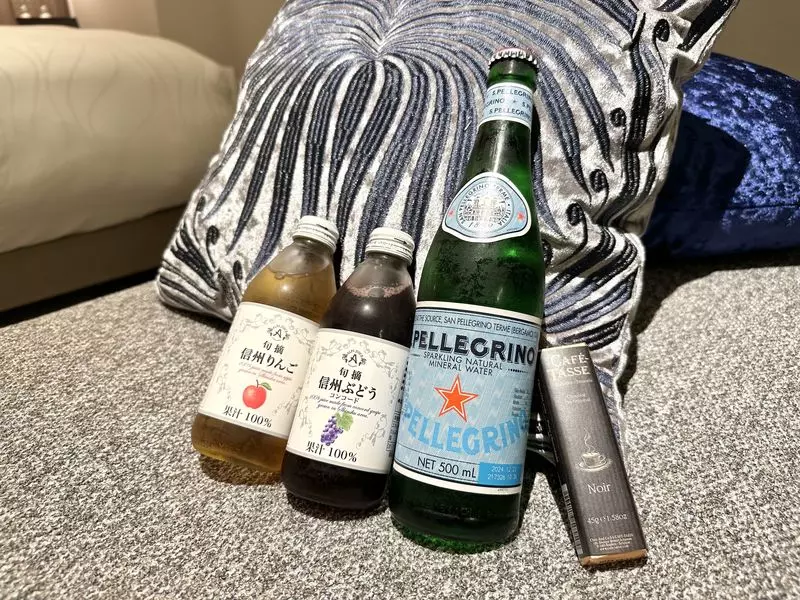 The refrigerator is also stocked with juice, carbonated water, and chocolate. It is a friendly service for people who are not good at drinking alcohol or who cannot drink.
Coffee capsules made with a coffee machine and a wide variety of snacks are also available. It's nice to be able to enjoy drinks and snacks in your room to your heart's content.
Substantial amenities
It is also nice to have a full range of amenities such as hairbrushes, razors, mouthwash, skin care products such as lotion, and hair clips! Women are especially grateful because they can reduce the amount of luggage they carry during their stay.
Relax in nightwear and bathrobes
Nightwear and bathrobes are provided, ensuring utmost comfort and relaxation in your room.
Special dinner time for two
Now, the best part of THE skM TOKYO HOTEL&DINING is dinner time! A variety of delicious dishes are arranged on the dining table in the room. It feels like a home party and I'm excited!
Salad
Sushi
Pizza
Teppanyaki
Teppanyaki, sushi, Italian and other dishes prepared by the hotel's restaurants such as "restaurant REGINA", "Ryuduki private & party space", "RYUDUKI TEPPAN", and "Ryugetsu -SUSHI-" can all be served in your room at once. It's such a luxury to have!
In your room, you can relax and enjoy your meal at your own pace without worrying about the time or eyes of others. Sometimes you can get excited while watching TV, or you can talk about things you don't want others to hear… It's okay to play your favorite music here!You can enjoy your own time, which is only possible in your own room.
Besides, all the dishes are delicious! As mentioned earlier, enjoy a luxurious meal with the wine provided in your room. It will add color to your happy time.
Enjoy breakfast in your room in the morning
In your hotel room, you can also have breakfast! You can enjoy a delicious breakfast in the comfort of your own space while wearing a cozy bathrobe and without the need for makeup. One of the appealing aspects is the unique experience it offers, something that cannot be replicated at a restaurant.
Breakfast menu
Yogurt & Fruit
Bread,Jam,and Echire Butter
Soup, Orange juice, and Coffee
It's refreshing to enjoy breakfast while staying in your nightwear or bathrobe, getting ready in the morning, or relaxing in your room.If you can have not only dinner but also breakfast in your room, you can spend a relaxing time during your stay at the hotel, as you can stay almost without going outside.
Experience a hotel stay where your room transforms into your personal restaurant, immersing you in a captivating ambiance you won't want to leave.
Are you curious to explore the unique charms of THE skM TOKYO HOTEL & DINING? It's a hotel-type restaurant that offers a distinct experience, different from your typical hotel stay. From the sense of anonymity to the feeling of tranquility and the touch of luxury, this place has it all. Once you experience the special atmosphere that can only be found here, you'll surely become captivated. So why not consider staying at THE skM TOKYO HOTEL & DINING and indulge in delightful culinary experiences that will satisfy both your palate and your soul?
THE skM TOKYO HOTEL&DINING
Address4-25-5 Kotobashi, Sumida-ku, Tokyo